Contact Voltage Detection with Power Survey
Electric grids are complex systems where vital components gradually wear down together. While we can inspect and mend things above ground with ease, the concealed elements below – such as buried cables – can harbor significant issues that evade detection. This hidden threat can lead to contact voltage, which can be expensive and dangerous.
Awareness of this hidden risk is not the problem: detection is. Proactive detection is the only responsible course of action. Contact voltage cannot be reliably detected with a manual or visual inspection, like a rotting wooden pole or a corroding steel transmission tower. The solution is Power Survey from Osmose – which relies on advanced technology in its MAAV or Mobile Asset Assessment Vehicles, which identifies problem areas that can be addressed before they impact safety or lead to electrical losses. The MAAV has a sophisticated electric field detection system focused on detecting high-impedance faults in underground distribution systems – typically in urban and city settings.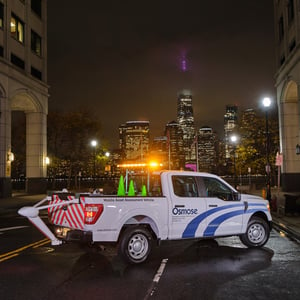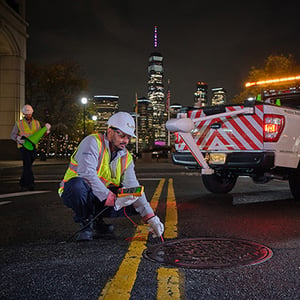 How Power Survey Works
During the survey process, Osmose utilizes its truck-mounted Power Survey MAAV technology to scan the designated area. This technology identifies weak electric fields that come from structures energized due to an underground issue. It also simultaneously detects voltage on various surfaces in the area, including streetlights, manholes, fences, roads, and sidewalks.
When alerts are raised by the MAAV during the field measurement phase, they are carefully examined using handheld measurement equipment. Data about the route covered is collected automatically. A trusted benchmark is used to measure the voltage and harmonic content of each structure.
Osmose offers this valuable information through a 24/7 dispatch center, which can function independently or be integrated into existing GIS and work management systems.
• All collected data and images of energized objects that are detected, identified, and monitored, alongside the trusted benchmarks, are logged in the GridSight diagnostic service. They are then presented in event reports that highlight instances of stray or contact voltage that could be dangerous to people and animals.
• These event reports are provided in real time.
Enhancing Decision-Making through Power Survey
Osmose's Power Survey technology has conducted precise and real-time electric field testing across over 75 cities in the U.S., Canada, and Europe. Our expert technicians are extensively trained and certified, ensuring consistent testing and effective troubleshooting methods. The comprehensive GridSight® dashboards offer customers current status updates, accessible through a web interface on desktops or a personalized dashboard interface on mobile devices.

By systematically tackling hidden risks, Power Survey empowers utility companies to protect their grid infrastructure, as well as the well-being of the customers and communities they serve.